Rishi Sunak is "actively" looking at measures to cut legal immigration to the UK ahead of figures this week expected to show a further increase in the numbers arriving.
The Prime Minister is under pressure from within his party to reduce net migration and the 2019 Tory manifesto promised the "overall numbers will come down".
But figures from the Office for National Statistics on Thursday are expected to show a record high for the year to June 2023.
Net migration takes into account the amount of people arriving in the UK, minus those who leave, and in 2022 the figure was a record 606,000.
The figure announced on Thursday could be as high as 700,000, the Daily Mail reported.
The Government has introduced measures to prevent overseas students bringing dependants with them and was "actively looking" at "what more can be done to reduce legal migration".
The spokesman said: "Obviously we want to see legal migration fall. That's why earlier this year we announced measures to deliver the single largest reduction in net migration ever.
"Obviously, there's no single measure to reduce migration. There are some global factors in play – the pandemic and our humanitarian schemes.
"I think the public would understand why it was right to welcome 114,000 Ukrainians, 52,000 BN(O)s (British national overseas passport holders) from Hong Kong, for example."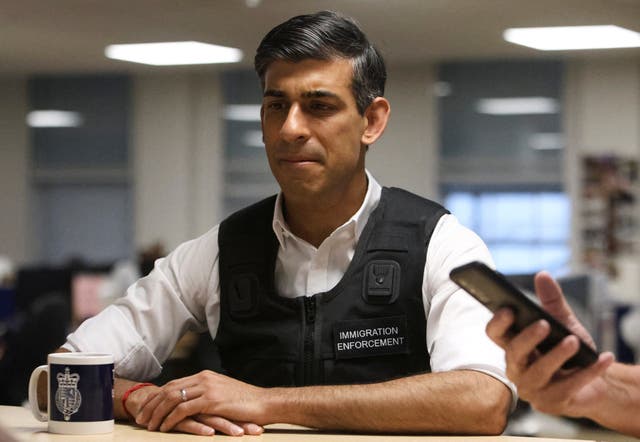 The measures on international students' dependants "will lead to a significant reduction" over time but those changes "won't impact the figures this week".
The spokesman added: "This is something that we are actively looking at, about what more can be done to reduce legal migration.
"Obviously, our priority still remains small boats crossings.
"And obviously we need to do that whilst balancing the priority of growing the economy and understanding things like the economic benefits that students can bring, for example."
The issue of reducing net migration has been a long-standing problem for the Tories, with then prime minister David Cameron promising to bring it down to the "tens of thousands" in 2010.
The New Conservatives group on the Tory right has called for ministers to close temporary visa schemes for care workers and cap the number of refugees resettling in the UK at 20,000 as part of an effort to slash net migration to 226,000 by the time of the election expected next year.