The UK and South Korea are to launch talks on a new trade deal and sign a diplomatic accord as part of Korean President Yoon Suk Yeol's state visit.
Business and Trade Secretary Kemi Badenoch will begin negotiations with her Korean counterpart Bang Moon Kyu at the UK-Korea Business Forum at Mansion House on Wednesday.
They will also announce £21 billion of investments committed by Korean businesses in green energy and infrastructure projects across the UK.
The UK secured a free trade deal with South Korea in 2019, with the agreement largely aimed at keeping trade flowing post-Brexit and removing uncertainty.
The UK hopes to secure modern digital provisions in a new deal because most of its services exports to Korea are delivered digitally.
Ms Badenoch said: "The Government is upgrading our trade deal with South Korea to ensure that our trading relationship plays to the UK's strengths as an advanced, high-tech economy.
"This refreshed, modernised deal will boost our world-leading services sector while also creating new opportunities for UK exports such as in our world-leading food and luxury goods sectors."
Mr Yoon began his state visit on Tuesday with a welcome from the King and Queen.
He will hold a bilateral meeting with Prime Minister Rishi Sunak and sign the new long-term agreement covering defence and technology co-operation in Downing Street on Wednesday.
The Downing Street Accord follows similar agreements with Singapore and Japan, coming as the UK seeks to consolidate influence in the Indo-Pacific.
It will include a defence agreement that will boost the British and Korean militaries' co-operation on countering smuggling in the East China Sea which North Korea relies on to evade sanctions.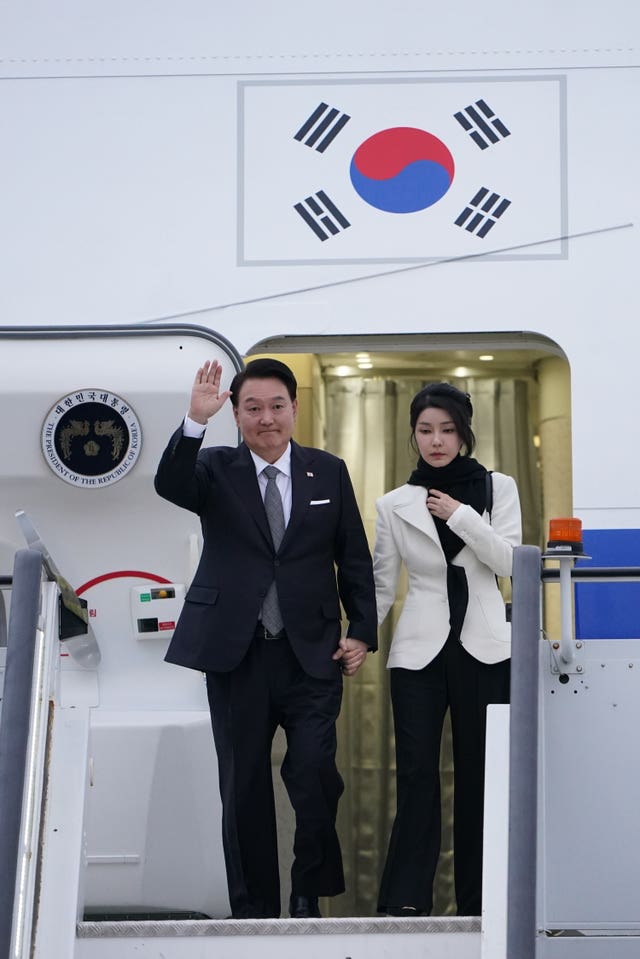 Defence Secretary Grant Shapps said: "The UK is leading the way in supporting our Korean friends in countering North Korea's aggressive posturing and ensuring the safety and security of the Indo-Pacific.
"Deepening the ties between the Royal Navy and Republic of Korea Navy, our bilateral defence relationship has never been stronger."
Foreign Secretary Lord David Cameron said: "This agreement – signed 70 years after the Korean War Armistice – is a truly unique step in the strengthening of our work to secure the security of the Korean Peninsula and the region. We are proud, as a permanent member of the UN Security Council, to be at the forefront of international sanctions enforcement activity.
"This incudes upholding international commitments to curtail North Korea's illegal weapons programmes."
A new clean energy partnership will also be signed, bolstering collaboration on low-carbon technologies, civil nuclear, and policies to tackle climate change.
Downing Street said the accord will also see the countries work closer together on technology such as artificial intelligence, semi-conductors and quantum.
Science ministers will also sign a memorandum of understanding to boost space co-operation.
South Korea will host next year's AI summit after the first UK-backed gathering in Bletchley Park earlier this month.
The UK visit coincides with the 140th anniversary of diplomatic relations between the UK and Korea, as well as the 70th anniversary of the armistice of the Korean war.