First Trenitalia is to take over from Virgin Trains in running services on the West Coast Main Line.
The joint venture between Aberdeen-based FirstGroup and Italian-owned train operator Trenitalia will begin operating on December 8.
The Department for Transport's (DfT) decision to award the West Coast Partnership (WCP) franchise to First Trenitalia means another franchise will switch from being wholly controlled by British companies to a part foreign state-run operation.
Analysis by the PA news agency found that more than three-quarters of franchises will be at least partly owned by states or firms from Europe, Canada and the Far East once the change on the West Coast takes effect.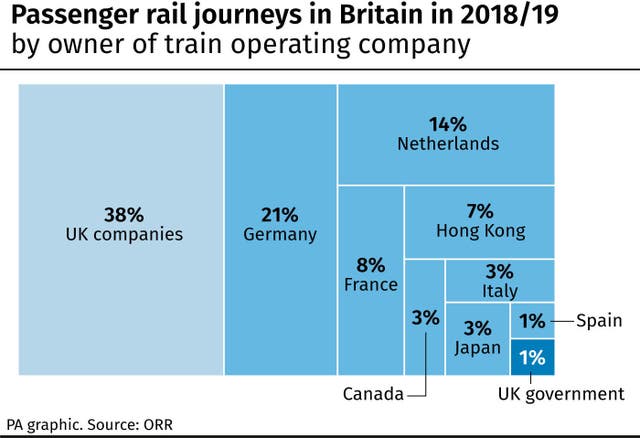 Around 61% of all journeys will be on services owned by other countries.
Shadow transport secretary Andy McDonald said: "It's time for our railways to be brought into public ownership so they are run in the interests of passengers instead of ripping them off to line the pockets of profiteers and shareholders."
Rail, Maritime and Transport (RMT) union general secretary Mick Cash said: "Instead of following the popular public sector route, the Tories are taking yet another gamble on the crucial West Coast lines with one of the dwindling number of private operator consortia left in the game, in a move that RMT believes is doomed to failure and sure to result in yet more rail chaos."
The WCP runs until 2031 and includes responsibility for running the first HS2 trains from 2026.
But the DfT said the Government will "shortly launch a review" into the new high-speed railway, a move widely expected after Boris Johnson became Prime Minister.
The department added that the WCP is designed to ensure it can "implement the review's outcomes".
Virgin Trains, a partnership between Virgin Group and Stagecoach, has run services on the West Coast line since March 1997.
The companies are suing the DfT over its decision to disqualify their WCP bid due to a row over pensions.
The latest survey of more than 30,000 passengers by watchdog Transport Focus found that Virgin Trains has the highest passenger satisfaction rating of any franchised train operator in Britain, with 91% of customers satisfied with their journeys.
Punctuality, value for money, toilet facilities and response to delays were among the categories which the train company was rated several percentage points higher than the average for all long-distance operators.
Virgin Group boss Sir Richard Branson wrote in a blog that he was "devastated" that his firm was being removed from the West Coast, ending its operation of trains in Britain.
He added: "Our people have shown the rest of the industry how it should be done for more than 20 years and we wanted this to continue for many more years."
FirstGroup was recently forced to fight off attempts by its largest shareholder to oust six board members.
Coast Capital has called for the transport giant to withdraw from operating rail franchises in Britain.
First Trenitalia will pay the Treasury £1.6 billion in premiums to run West Coast services until 2026.
This is followed by the second phase of the contract which adds HS2 services to the operator's responsibilities. The firm will be paid a management fee during this period as the DfT takes on more of the risks over revenue and costs.
FirstGroup chief executive Matthew Gregory said the WCP involves a "more appropriate balance of risks and rewards for us as operators" compared with traditional franchises.
Transport Secretary Grant Shapps said the award of the contract is supported by Keith Williams, who is leading a Government-commissioned review into the railway.
"This award is positive news for passengers, with more services, more direct connections and ambitious plans for a cleaner, greener railway, and also represents a decisive shift towards a new model for rail," he said.
"It is a partnership supported by Keith Williams, built with the flexibility to respond to his recommendations and deliver fundamental reform to a flawed system."
Under the terms of the new agreement, First Trenitalia will operate 263 additional weekly services every week from December 2022.
Motherwell, North Lanarkshire, will become a "major calling point", while destinations such as Llandudno in North Wales and Gobowen in Shropshire will be served by direct trains to and from London. Walsall will receive its first direct intercity services.
The number of direct services between London and Liverpool will be doubled to two per hour, subject to approval from the Office of Rail and Road.
Twenty-three new trains will be used for the extra services to the North West, while the existing Pendolino fleet will be given a £117 million refurbishment, including new seats, additional luggage space and improved toilet facilities.